Health & Beauty
Herbal Remedies
CBD benefits
There are 5 natural remedies that may help alleviate symptoms of eczema
There are lots of eczema treatments, but here we will discuss 5 natural remedies for eczema and psoriasis. Conventional treatments for eczema include the use of prescription topicals, immunosuppressants, phototherapy and biologic drugs, But for many people after they finish the course of medication, the skin condition just returns. People are often told simply not to scratch and given emollients but most of the emollient prescribed by doctors contain parabens, which can be an irritant in some people. Worst of all ingredients for eczema is sodium laurel sulfate, an ester of sulphuric acid that dries up the natural oils on the skin and can cause skin corrosion and severe irritation. Rather than temporarily masking the symptoms, this article discusses 5 natural remedies for eczema that you can try and beat eczema forever.
Apply a CBD infused skin cream.
Cannabidiol (CBD) skincare may help relieve symptoms of eczema and psoriasis because the skin has its own cannabinoid system, topical CBD creams and balms activate these receptors. Cannabinoids have a powerful anti-itch effect, the receptors in the skin interact with cannabinoids that could reduce the symptoms and appearance of eczema.
Apart from the variety of cannabinoids, there are other molecules are produced by the hemp plant, including terpenes, which create the unique scent depending on the strain of plant, and flavonoids which exhibit significant anti-inflammatory, antifungal effects. 
A 2018 review in the Dermatology Online Journal suggests that topical CBD may help decrease inflammation and reduce the likelihood of flare-ups. 
Although more research is needed, Pureagen® has launched a new CBD repair cream that is clinically proven to repair, restore and soothe skin. A Full spectrum CBD skin cream that embrace all the plant's natural waxes and fatty acids, this encourages your inflamed skin to repair, restore and calm providing instant relief.
Infused with 250mg of full-spectrum CBD, and fragranced with 100% cannabis terpenes. It also contains Cacao Butter, Hemp Seed Oil, Ylang-Ylang Oil & Eucalyptus Oil.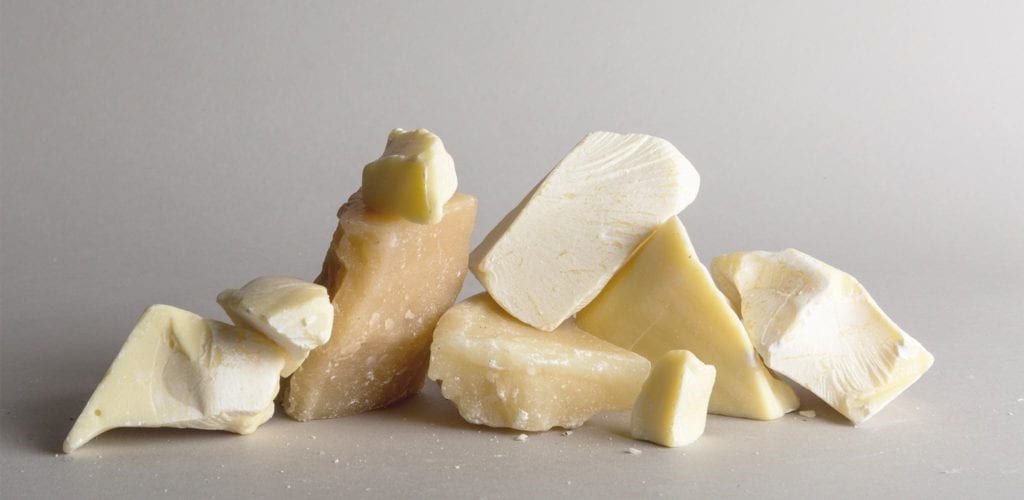 Cocoa butter is a rich natural fat derived from the cacao beans from inside the pods of the Cacao Tree. It is great for your skin because it contains Vitamins E. cold-pressed, is even better. It softens skin and smells like divine! It's best to buy it in its most pure form as this guarantees there will be no added parabens or artificial preservatives, which are not necessary as it lasts forever and it's also so much cheaper. Cocoa Butter works as an anti-inflammatory moisturiser that provides relief to dry skin conditions affected by swelling, irritation, and redness. It is also known to enhance the body's immunity by promoting relaxation It is so gentle it can be used on burns and infections.
The main constituents of Cocoa Butter are: Oleic Acids, which also reduce the appearance of aging, wrinkles and fine lines. Stearic Acid, is an ideal emulsifying agent that binds water and oi and softens skin. Palmitic Acid, has emollient properties and also softens without leaving a greasy or sticky residue. Linoleic Acid, promotes wound healing and has anti-inflammatory properties. Arachidic Acid, Boost immunity. Palmitoleic Acid, enhances skin elasticity. Vitamin E is known to repair scarred and blemished skin. Vitamin K, Reduce swelling and bruising. alpha-Linolenic Acid, can lessen inflammation and Soothe joint pain and ease stiffness to improve flexibility. Phytosterols (namely Stigmasterol) has anti-inflammatory and anti-aging properties.
3. Try Shea butter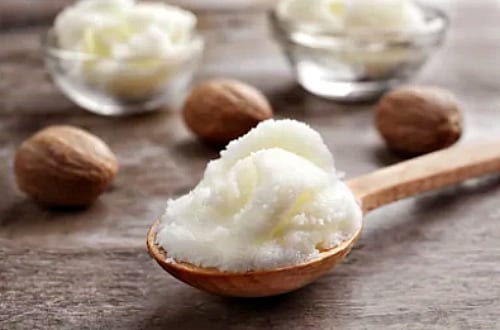 Shea Butter has been used in the cosmetic industry for years because of its antioxidant, anti-aging, and anti-inflammatory characteristics. It is an excellent natural moisturiser known to help alleviate eczema symptoms because of its high oil and fatty acid content, these penetrate deep into the skin which causes skin cell regeneration. When applied topically, shea butter can increase moisture retention by acting as a protective layer on top of the skin and preventing water loss from the first layer, as well as penetrating to enrich the other layers.
Natural unrefined Shea butter is the best choice for dry skin because it does not contain additives, preservatives, or chemicals. And, compared to other formulas, the effects of pure shea butter will last for hours without having to reapply. It is packed with vitamins A, E and F, which help to promote the healing of dry, itchy and inflamed skin. Shea butter also contains anti-inflammatory properties which help to keep skin from becoming red and irritated, which is a problem for eczema sufferers. Shea butter can also be used to form a protective barrier on the skin, preventing flare ups from allergens, such as dust, that can cause the skin to become itchy red and inflamed.
In a 2009 study by the University of Kansas, shea butter proved to be a good option for treating eczema. A patient with a moderate case of eczema applied shea butter to one arm and vaseline to the other, twice a day. It's no surprise that  the arm that had shea butter applied was clearer and  smoother.
4. APPLY ALOE VERA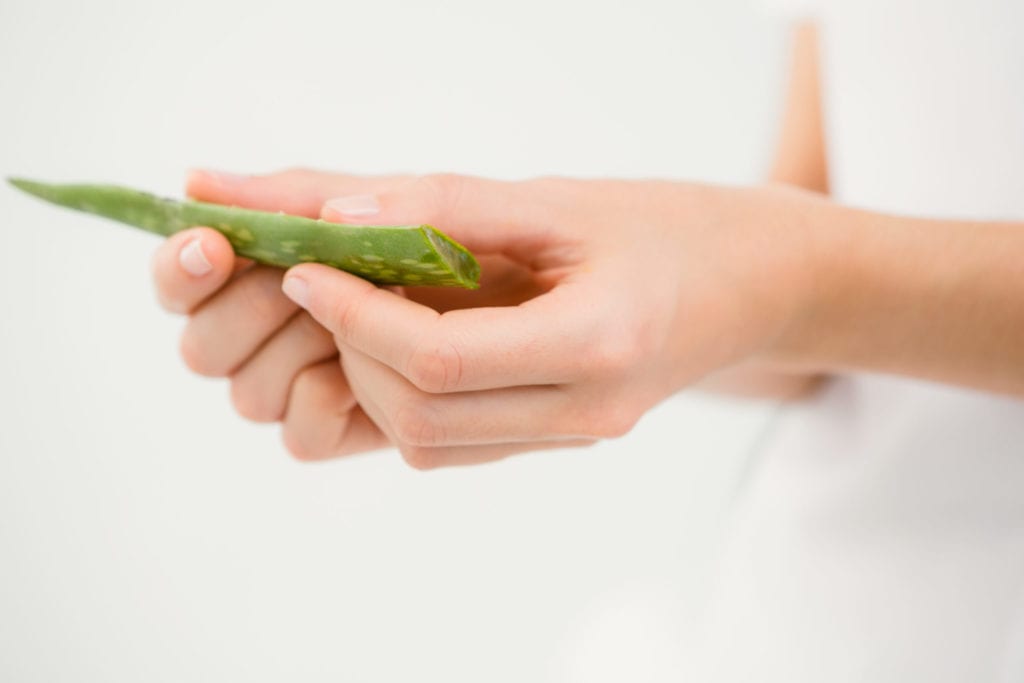 Aloe vera is often used to treat burns and has been known to be effective at healing wounds. Some people claim it is effective at treating my eczema with overnight results. However it is recommended that you buy a plant from your local garden centre and cut off one leaf at a time, keep it in your fridge to use when you need it. This is because harvested aloe juice needs preservatives, and this can cause a rash in people with sensitive skin. Pure aloe vera gel is rich in anti-inflammatory properties and provides a nice cooling sensation for dry, itchy skin.
Because eczema can cause the skin to crack and bleed, this makes the skin more susceptible to infection. The antimicrobial effects of aloe vera may prevent these infections. Plus the wound-healing properties may help any broken skin to heal more quickly.
5. Have an oatmeal bath
People have used oatmeal baths for centuries to ease irritated skin. Oatmeal baths are also well known for soothing dry itchy skin conditions. Not only is it super moisturising but it also cleans your skin too. It is a relatively low cost way to soothe eczema. Known as Colloidal oatmeal, it is recommended that you grind plain oatmeal to a fine powder, simply add a cup to a lukewarm bath and soak for 15 minutes. According to a 2012 study Colloidal oatmeal can protect dry skin and soothe the itching and irritation that eczema. causes. The same study reports that oatmeal can also act as a buffer to help maintain skin surface pH.
Colloidal oatmeal binds to your skin and forms a protective barrier. It also helps your skin to retain moisture and eases inflammation.