Description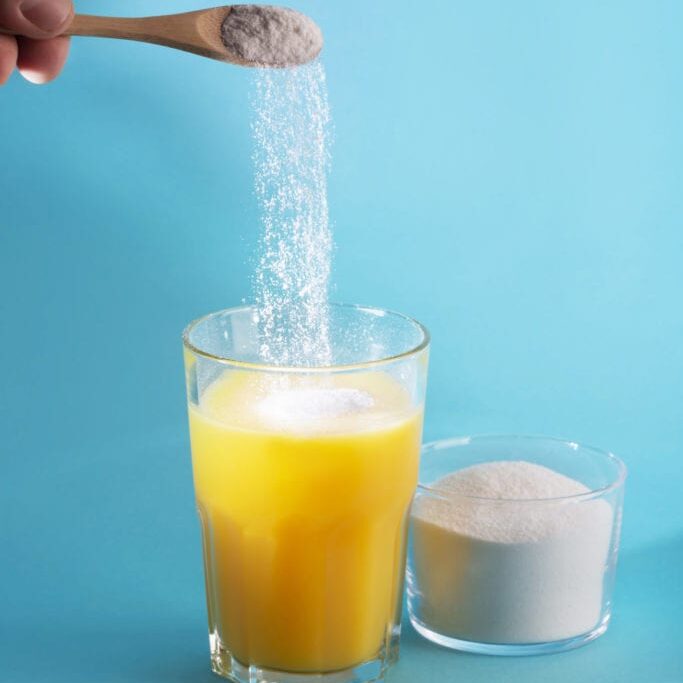 Vitamin C is essential for the production of collagen
Collagen can help to protect the skin by filtering out environmental toxins and other pathogens. It's also known for its anti aging benefits. These include plumper skin, nail and hair strength and growth. We need to add extra collagen to our diets as we age  because the body naturally slows down collagen production. Without sufficient amounts of vitamin C, the body can't produce or store collagen. This makes vitamin C an important factor in collagen synthesis. It is responsible for holding the cells together during the creation of collagen. 
With Essential vitamins beneficial for healthy skin, hair & nails
hydrolysed marine collagen powder is an antioxidant and studies show that extracts and metabolites of marine collagen promotes hair health and growth.
B-vitamins help carry oxygen and nutrients to your scalp, which aids in hair growth.
Vitamin C also helps your body absorb iron, a mineral necessary for skin health and hair growth.
Biotin improves hair growth and helps with inflammation. Hair follicles, skin and nails all benefit.
Hydrolysed Marine Collagen Powder
Collagen provides the essential structure to the skin, bones, teeth, gums, blood vessels and joints. Hydrolysed marine collagen powder, taken daily may help to slow the signs of ageing and improve overall skin and joint health.  
Marine collagen powder is widely regarded as the highest quality and most bioavailable source of collagen. We have not only added Vitamins B including Biotin, known for its support of healthy hair but we have also added vitamin C, which is authorised by the European Food Safety Authority (EFSA) for its role in collagen production. Vitamin C contributes to a healthy immune system, helps reduce symptoms of tiredness and helps to promote collagen formation.
hydrolysed marine collagen powder
This product uses Naticol® – a type I fish collagen peptide, produced by enzymatic hydrolysis. It is a mixture of peptides with various molecular weights including some dipeptides and tripeptides. It is made from fish skin and scales. Using Naticol® in our product has the following advantages over other collagen sources: 
• Bioavailability: Naticol® provides the appropriate amino acids which make up the collagen in the body. The low molecular weights grades allow absorption into the bloodstream after digestion. 
• Sustainability: Naticol® is made from the skins and scales of fish that would otherwise be discarded in the fillet process.
• Quality and traceability: Naticol® is produced in Europe under ISO 9001 and ISO 22000 standards.
• Safety: The ionic demineralization and filtrations assure the maximum purity and a high collagen ratio (98% – 99% on a dry matter basis). Sterilization guarantees low bacteria. 
Directions:
Add 1 scoop of collagen powder to water or juice. This powder usually dissolves better when shaken rather than stirred.
Ingredients
1 scoop (10.35g) typically provides:
Vitamin C 180mg (225% NRV*)
Thiamin (Vitamin B1) 4mg (364% NRV*)
Riboflavin 6mg (429% NRV*)
Niacin 17mg (106% NRV*)
Vitamin B6 4mg (286% NRV*)
Folic Acid 200µg (100% NRV*)
Vitamin B12 10µg (400% NRV*)
Biotin 200µg (400% NRV*)
Pantothenic Acid (Vitamin B5) 21mg (350% NRV*)
Hydrolysed Marine Collagen (93% Protein) 10g
Hyaluronic Acid 25mg
*NRV = Nutrient Reference Value