Description
Lions Mane Mushroom magic
Lion's Mane tincture has optimal absorption. The main active compounds are aromatic hericenones and diterpenoid erinacines and in liquid form can pass through the blood-brain barrier which makes liquid more efficient than lions mane powder or lions mane capsules. This magical medicinal mushroom helps eliminate brain fog, restore memory and mental alertness. Also improves anxiety and depression symptoms.
The worlds best Lion's Mane Mushroom
Our Lion's Mane tincture is the most potent lion's mane extract in the world with a concentration of 8:1. A dual extract concentrated liquid supplement made from the fruiting bodies of a renowned nootropic mushroom. Perfect for neurogenesis and mental performance, with the ability to stimulate the production of nerve growth factor (NGF). Lions Mane consists of unique compounds called terpenes. Traditionally used for brain/cognitive function, memory, nerve damage & digestion. Lion's mane medicinal mushroom has neurotrophic properties
Supports against Dementia, Neuropathy, MS, Nerve Damage, Anxiety/Depression, Menopausal Syndrome, MRSA, Gastric Ulcers, Bacterial Infections, Alzheimer's Disease, Insomnia, & Multiple Sclerosis.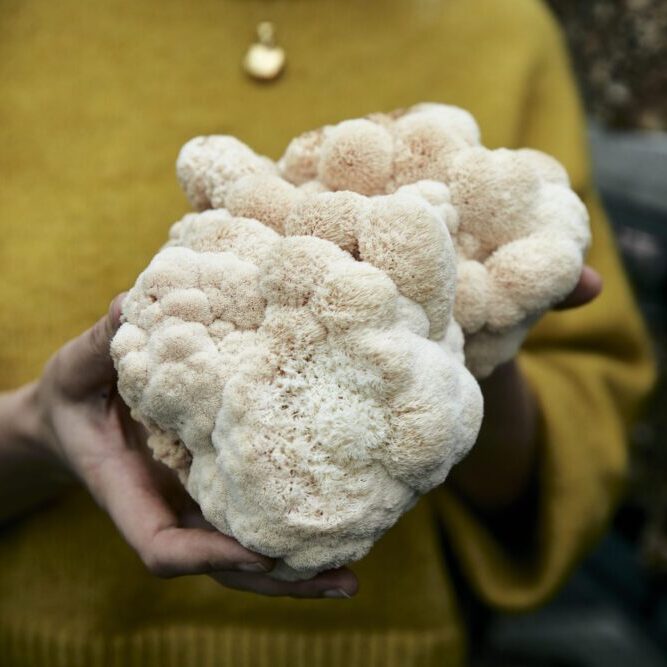 What is Lion's Mane Mushroom?
Lion's Mane otherwise known as Hericium Erinaceus is a medicinal mushroom is an important species in the Traditional Chinese Medicine. Lions's mane has been used for thousands of years, and has grown in popularity recently known as a "smart mushroom" because of its support for exceptional brain supportive potential, cognitive function and neurological health. It is naturally found growing on trees in the late summer and recognised by its white, fur-like appearance. Lion's Mane was traditionally used as a tea for years by Buddhist monks to heighten their ability to focus during meditation and enhance brain power. It also contains bioactive substances that support a variety of the body's functions and processes. the regular use of lion's mane may help your body function more efficiently and remain balanced when faced with internal or external stresses.  Lions Mane mushroom tastes great and is often used in cooking and making mushroom coffee  
Ingredients
Lions Mane Mushroom extract (8:1) – 1500mg (12,000mg) Organic Cane Alcohol, Highland Spring Water
DIRECTIONS
The recommended dose is 1-3ml (droppers), 1-3 times per day, It should be swallowed straight or added to a drink. Do not exceed the recommended dose.
WARNING:
Keep out of the reach of children. Do not take this supplement if you are under the age of 18, pregnant or breastfeeding.
Disclaimer
Always consult your health practitioner before taking any new dietary supplement. This product is not intended to diagnose, treat, cure, or prevent any diseases. 
Contradictions:
Medications for diabetes (Antidiabetes drugs) Lion's mane mushroom may lower blood sugar levels. Taking lion's mane mushroom along with diabetes medications may cause blood sugar to drop too low.

Medications that slow blood clotting (Anticoagulant / Antiplatelet drugs) Lion's mane mushroom may slow blood clotting. Taking lion's mane mushroom along with medications that also slow blood clotting may increase the risk of bruising and bleeding.
Precautions:
Bleeding conditions: Lion's mane mushroom may slow blood clotting. This might increase the chances of bruising and bleeding in people with bleeding conditions.

Surgery: Lion's mane mushroom may slow blood clotting and reduce blood glucose levels. This may cause extra bleeding, and interfere with blood sugar control during and after surgery. Dont consume lion's mane mushroom at least 2 weeks before a scheduled surgery.