Description
Super Body Mind® Gut Repair Herbal Blend.
Sometimes it is necessary to  eliminate foods to completely resolve gut problems. However Leaky gut syndrome, for instance, can persist long after all known food allergens have been removed from the diet. So we have developed a blend of herbs that can speed the process of recovery. These plants help to soothe inflammation, repair damaged tissues, and improve digestive function.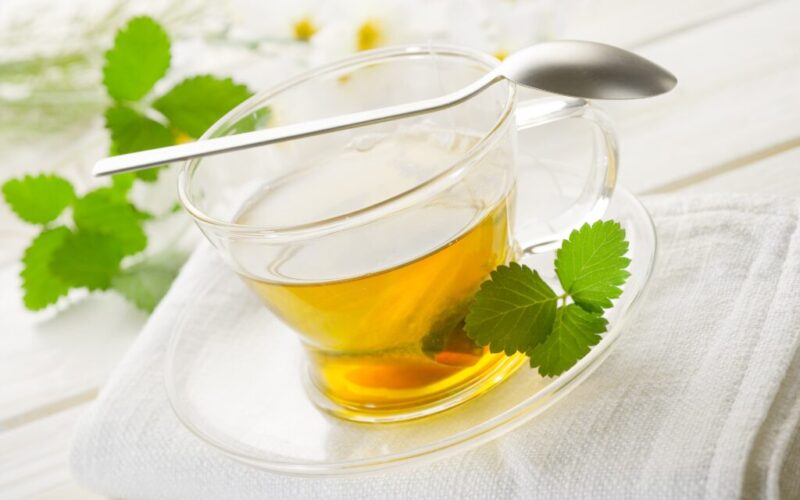 Chamomile (Chamaemelum nobile)
Chamomile has been used to treat several digestive ailments, including nausea and gas  Chamomile tea may protect against diarrhea, stomach ulcers, and nausea often caused by the inflammatory effects of heartburn, and intestinal issues. Chamomile tea is also known for reducing anxiety and helping people sleep better. Because it is recognised as  anti-inflammatory, drinking chamomile tea may offer the same benefits as taking an over-the-counter NSAID, such as aspirin.
Marshmallow (Althaea officinalis)
Marshmallow is a mucilaginous herb that has been used as a folk remedy for thousands of years to treat digestive, respiratory, and skin conditions. The root powder has the potential to treat a wide range of digestive conditions, including heartburn, and intestinal issues
An in vitro study from 2010 found that aqueous extracts and polysaccharides from the  marshmallow root can be used to treat irritated mucous gut membranes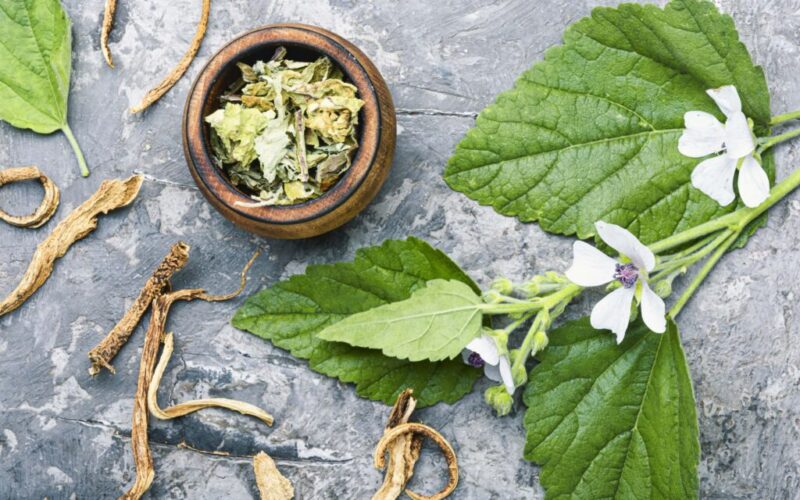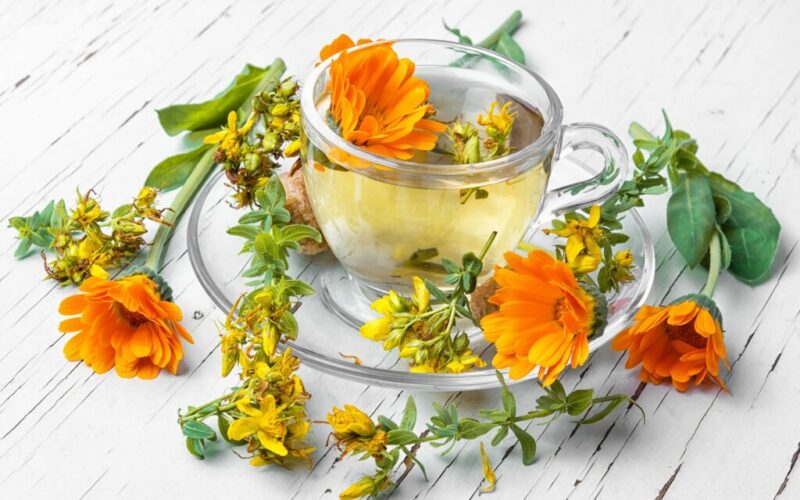 Calendula (Calendula officinale) flower
Calendula is very gentle, and effective at improving digestive issues it has many diverse benefits including, reducing inflammation in the gut wall and detoxing pathogens. It is also known to help fight amoebic infections and worms and help to heal and bowel/pelvic infections. and helping to protect the stomach lining and repair the gut wall. People with ulcers, heartburn or irritable bowel syndrome can benefit from calendula with a temporary relief of discomfort.
Licorice root (Glycyrrhiza glabra) 
The licorice plant (Ayurvedic Mulethi) has been used for thousands of years in traditional Chinese medicine. Known as a harmonising herb tt brings about balance, It contains over 300 flavonoids (plant compounds).
Licorice root is not only really sweet and delicious it also keeps our gut happy. It may reduce the symptoms of gastroesophageal reflux disease (GERD), such as acid reflux and heartburn. Some people find licorice root to be more effective at reducing the symptoms of acid reflux than antacids. Licorice root also acts as an adaptogenic herb that also can help improve memory.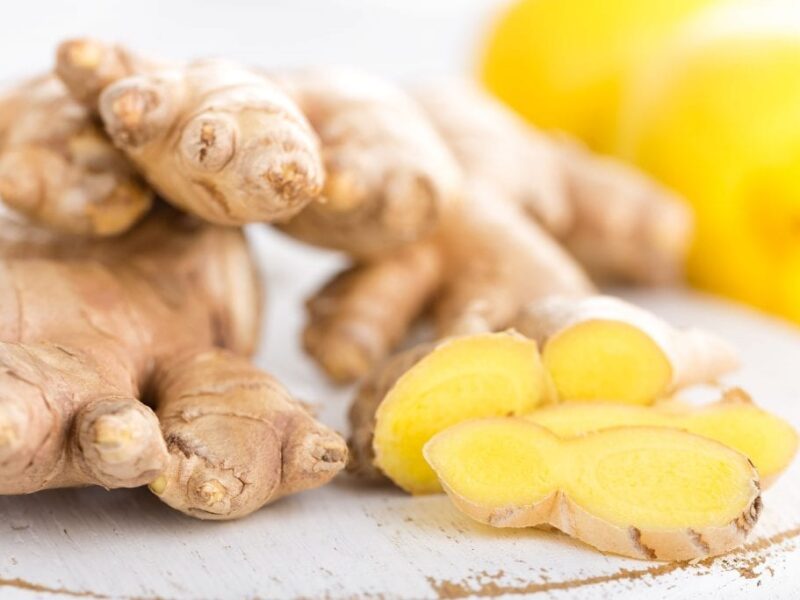 Ginger (Zingiber officinale)
Ginger, is widely used as a functional  food additive, but is now growing in popularity for universal health benefits. The health-promoting perspectives of ginger are well documented. Ginger has an elaborate chemical makeup. Scientists have identified 115 bioactive compounds with antioxidant, anti-inflammatory, and antiemetic properties. Some of these compounds aid digestion. Ginger  has so many benefits related to the gastrointestinal system. Ginger is known for reducing nausea, and that urge to vomit. It stimulates digestion and breaks up and removes the intestinal gases that can cause pressure, cramping, 
Ingredients:
marshmallow root, calendula, licorice root, chamomile & ginger
DIRECTIONS:
For a warm soothing drink simply add 1/2 tsp to a cup of hot water.
If pregnant or taking medication seek professional advice. Do not take it if you have high blood pressure.